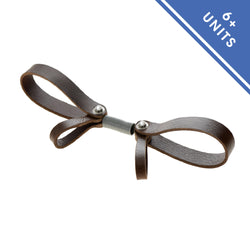 "6 Packs for Studio or Gym": 6 Rescue LOOPS & the FEET-NESS System
Perfect for Gyms, Pilates, Yoga and Barre Studios...
By purchasing Rescue LOOP, you enter into the exclusive benefits of the FEET-NESS System. Tips, workouts, and updates to help you reach your goals.
With RESCUE LOOP you will be able to*:
Strengthen the feet and ankles.
Separate the toes and the metatarsal bones, enabling the feet to explore the proper range of motion.
Increase the blood circulation in the foot and ankle complex, which is fundamental to decreasing any type of inflammation affecting the foot or a part of it.
---
Variables:
Sizes (the difference is in the FOOT STRAP, the outer strap): Regular and Large
Size specifications:
The regular size fits most feet. To make sure, measure your foot across: from the ball of the big toe to the base of the little toe. If this section measures more than 4 inches the large size will be recommended.
---
If your feet are often sore and act like a continuous headache, not allowing you to be great at what you do best, Rescue LOOP is the solution. It will reenergize your feet so they can be alive again! Your feet and your whole body will feel like new. By integrating Rescue LOOP and innovative movements that target the feet with your preferred sport activity, you'll achieve a TRUE FULL BODY workout.  
*Most of our customers have reported these improvements